Public Forums
Returning in 2023: Crowdsourced Conversations – A Forum Series Curated by the People for the People.
Once again, FutureHeights and Friends are bringing you a conversation-based forum series that brings Heights residents together to talk about topics that matter to us all.
HOW THIS SERIES FLOWS
Each forum will have a pre-survey for you to fill out.  We will use your answers to help formulate discussion topics for forum night.  During each forum, participants will enjoy the company of small breakout groups where, with the assistance of facilitators, they will dive into the questions generated by survey respondents.  After small group discussion, we will reconvene as a group-at-large to share what we talked about. And even after we say our goodbyes, we will keep in touch and keep the conversation flowing, build community connections, and continue to brainstorm actionable ideas.
2022 SERIES TOPICS & DATES:
#1: Sustainability. Visit the event resource page here.
#2: Housing & Neighborhood Preservation. Visit the event resource page here.
#3: Community Safety. Visit the event resource page here.
#4: Civic Engagement. Visit the event resource page here.
This forum series will be an opportunity to connect with other Heights residents about topics that impact us in a variety of overlapping ways. We hope you can join us for all four conversations! Stay tuned for more details soon. Any questions, connect with Sarah – swolf@futureheights.org.
THANK YOU!
This forum series is being planned in partnership with FutureHeights Community & Civic Engagement Committee, Cleveland Heights Green Team, Home Repair Resource Center, City of Cleveland Heights Racial Justice Task Force, Racial Inequity Repair Committee of Forest Hill Church, representatives of Cleveland Heights City Council, and more.  Thank you for the joy, wisdom, and enthusiasm you bring to the table!
More info here.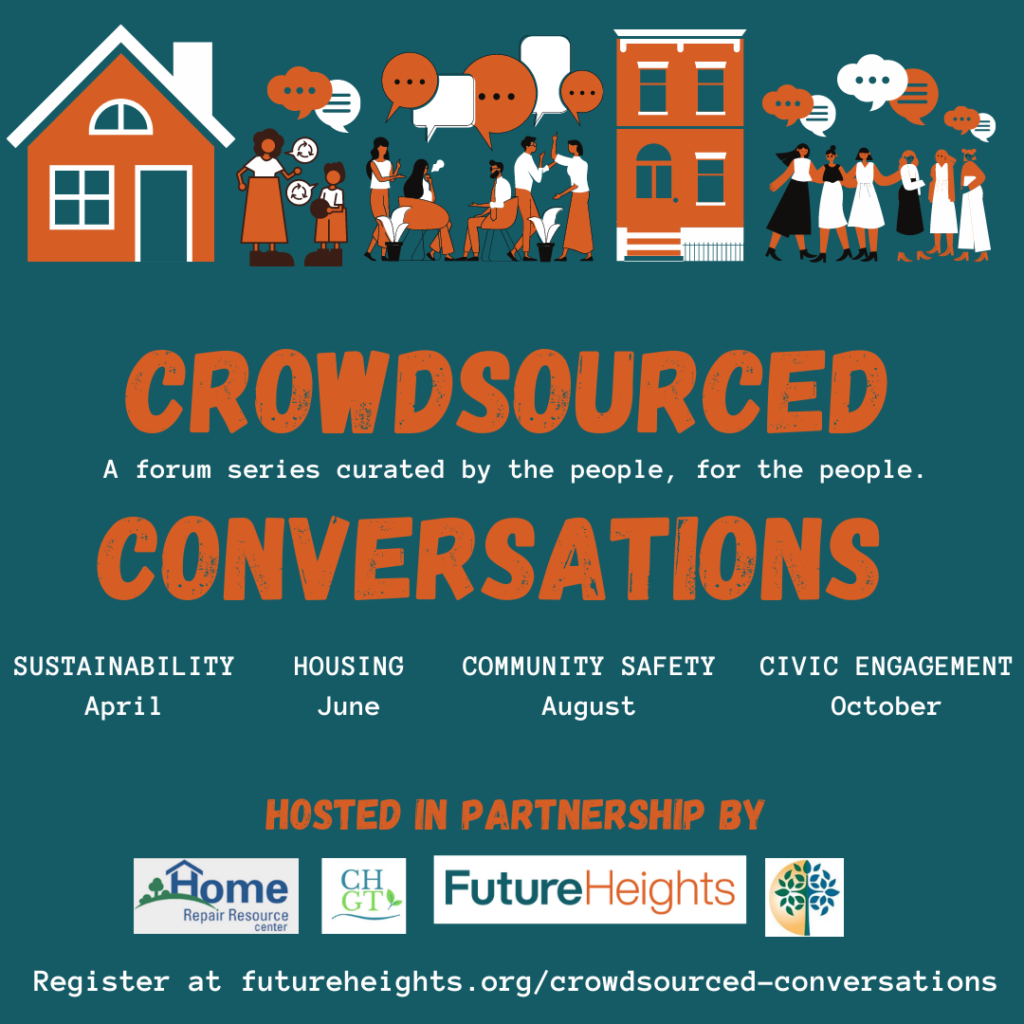 Older inner-ring suburbs have their unique strengths and challenges. FutureHeights regularly presents thought-provoking and valuable presentations from local and national experts to spur community education and action. Here are some past topics we've covered.
Choosing to Make the Heights Home (video)
Community Building for Change (video)
Creating Great Places in the Heights (presentation)
Vacant and Abandoned Properties in Cleveland Heights and University Heights (presentation)
The Power of Generative Journalism (video)
Reversing Disinvestment in Our Community (article)
Community Land Use and Development Forum (video)
Community Currency (article)
Making Sense of Place: Cleveland-Confronting Decline in America (article)
FutureHeights promotes citizen participation in neighborhood and community planning.
Beginning in 2000, with the Town Meeting to discuss Giant Eagle's development plans in the historic Cedar-Fairmount neighborhood, FutureHeights has worked to promote historic preservation, good neighborhood planning, sustainability, and citizen involvement in working to keep the physical fabric of our community strong.