WELCOME TO THE RESOURCE PAGE FOR OUR CROWDSOURCED CONVERSATION FORUM ON THE TOPIC OF HOUSING & NEIGHBORHOOD PRESERVATION!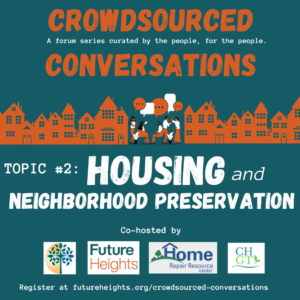 On Tuesday, June 28, 2022, approximately 60 Heights residents gathered at Forest Hill Church to participate in a discussion-based forum where small groups engaged in conversation about housing & neighborhood preservation.  Special thank you to Councilwoman Gail Larson (graciously pinch-hitting for Councilman Tony Cuda, who was unable to attend at the last minute) and Keesha Allen, Executive Director for Home Repair Resource Center, for their opening remarks!
We recognize that these conversations are first steps, not final solutions.  Each group identified something actionable they could do as everyday residents to be the change they wish to see in their communities:
A few suggested action steps that came out of each group's discussion:
BLUE GROUP – Download the (FREE) Access Cleveland Heights app to document & report issues to the appropriate city department.
GREEN GROUP – "Put your best foot forward" and find a way to contribute that feels meaningful to you.  Be welcoming to new neighbors and make more connections with those who live nearby.
ORANGE GROUP – Advocate for a more robust Housing Department at the city.
PINK GROUP – Advocate for — and help create — a "Good Neighbor" welcome packet that can be shared electronically with new homeowners and new renters.  Show up to City Council Meetings to make your voice heard on issues you care about!
RED GROUP –

Be a squeaky wheel.  Document & communicate. Show up.  Build connections.

YELLOW GROUP – Advocate for easily accessible r

esources for tenants so they know their rights. Advocate for more/affordable housing stock.  Advocate for code enforcement and a stronger housing department.
These are just a handful of the ideas that came out of the conversation — what fantastic, action-oriented first steps to take!
Here are some additional ideas for action steps:
Resources: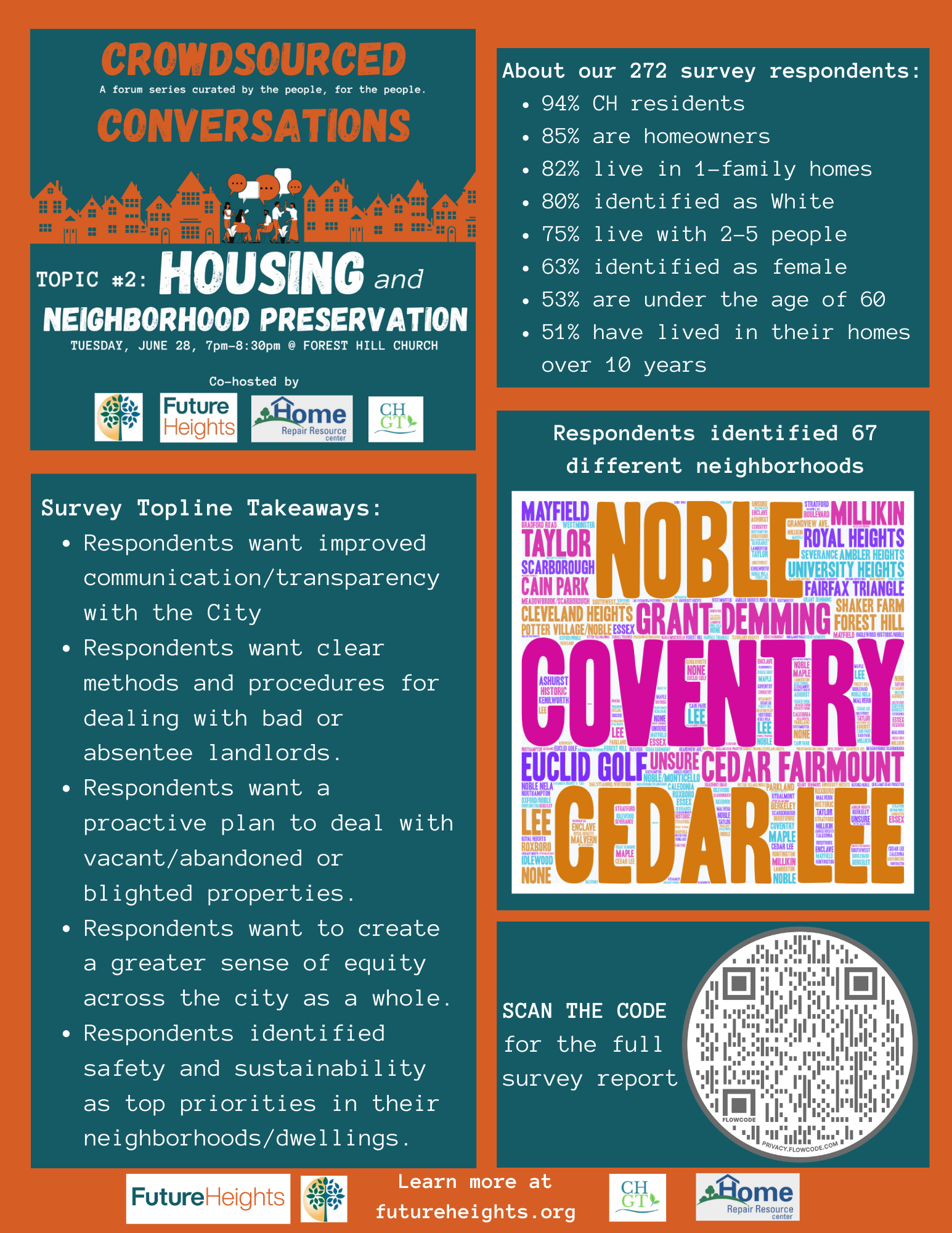 Have a resource to add or have a question about the series?  Let us know!  Email Sarah – swolf@futureheights.org.
We hope to see you at our next Crowdsourced Conversation forum!