Community-Building Programs
FutureHeights is proud to provide empowering opportunities for Heights community members to make the place where they live, work, and play that much more connected and meaningful.  Our Neighborhood Mini-Grant Program offers the potential for funding up to $1,000 to kickstart or help sustain a Cleveland Heights or University Heights neighborhood-level project or initiative while our Neighborhood Leadership Workshop Series is a cohort model program for Cleveland Heights community members that teaches an anti-racist, strengths-based approach to neighborhood-level organizing.  Read on to learn more!
Neighborhood Mini-Grants Program
WHAT is this program: The FutureHeights Neighborhood Mini-Grant award (up to $1,000) is for citizen-led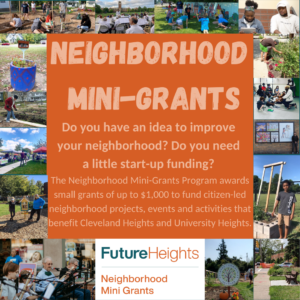 projects that benefit Cleveland Heights and University Heights neighborhoods. The intention of the Neighborhood Mini-Grants program is to offer support to Cleveland Heights and University Heights groups who wish to build community by working together to start or sustain a neighborhood project or initiative.
Since 2015, we are proud to have provided mini-grant funding to 75 projects for a total of $50,538 awarded. Check out past projects and learn more when you read the annual Neighborhood Mini-Grant report. (Updated annually – last update Fall 2022)
Special thanks to our supporters and partners, the Cedars Legacy Fund and the McGinty Family Foundation 1989, for providing ongoing support for the Mini-Grants Program.
Neighborhood Leadership Workshop Series
This *FRE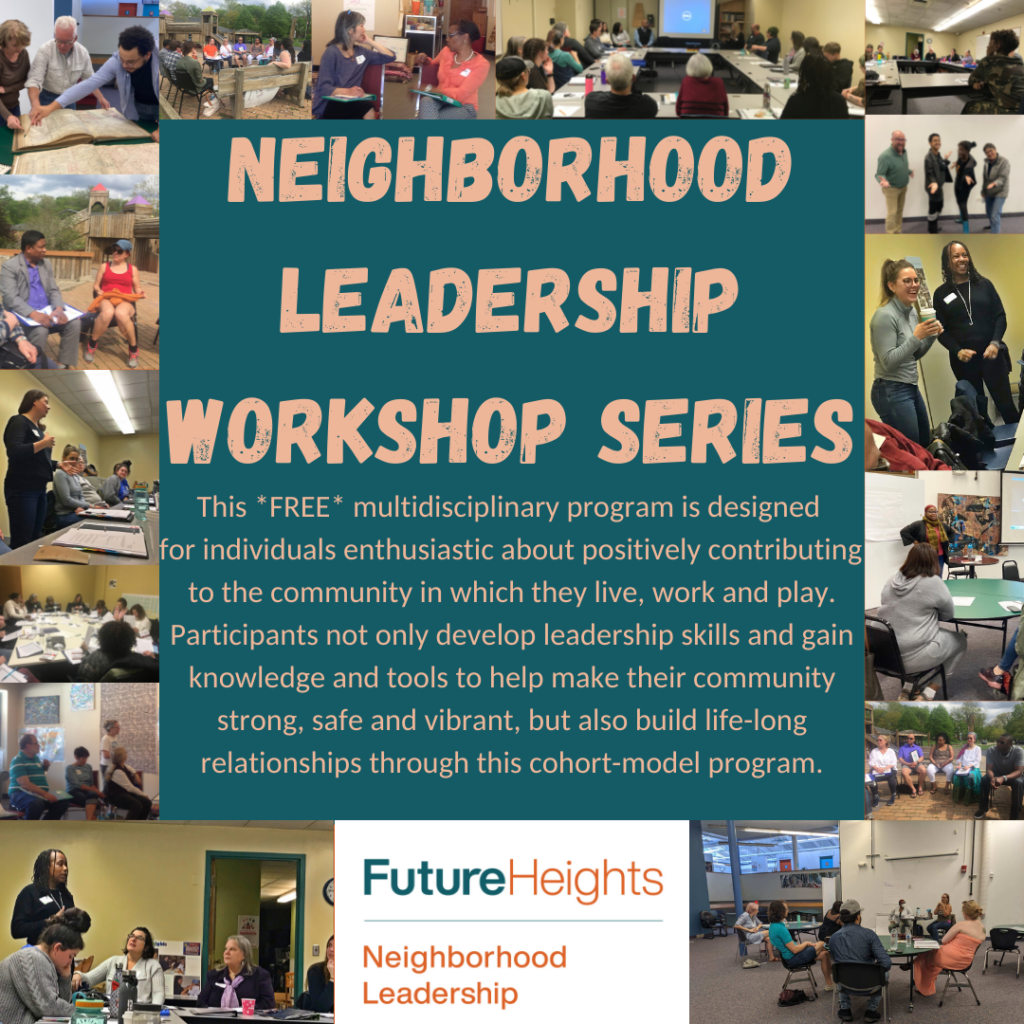 E* multidisciplinary neighborhood leadership development program for Cleveland Heights and University Heights residents or stakeholders is designed for individuals enthusiastic about positively and productively contributing to the community in which they live, work and play.
Participants not only develop strengths-based leadership skills and gain knowledge and tools to help make their community cohesive, safe and vibrant, they also build life-long relationships through this cohort-model program.
Our NLWS Alumni Association connects all program graduates and provides continued community-building opportunities, support systems, and create community connections that participants may enjoy for many years to come!
Connect with your neighbors
Build community with your neighbors! We invite you to check our list of neighborhood-based organizations here to see if there is an already-formed group near you. Access our Neighborhood Training Manual for some tips on how to get started, build momentum, and keep those neighborly connections going over time!
We also strongly encourage you to participate in our Crowdsourced Conversations forum series — more information here.
Thank you for your support
FutureHeights was awarded Community Development Block Grant (CDBG) funds to create and sustain our community building program that engages residents in several neighborhoods with the highest needs, train leaders, provide a process for identifying their neighborhood assets and needs, and brings people together to create community action plans. The result is empowered citizens working with each other, acting on what resources and strengths they already have and connecting to resources necessary to address their needs.
A big thank you to those who have given their support to these programs! Want your name added to the list? Donate securely to the Community Capacity-Building Program here.