Community Building Programs
FutureHeights is proud to provide empowering opportunities for Heights community members to make the place where they live, work, and play that much more connected and meaningful.  Our Neighborhood Mini-Grant Program offers the potential for funding up to $1,000 to kickstart or help sustain a Cleveland Heights or University Heights neighborhood-level project or initiative while our Neighborhood Leadership Workshop Series is a cohort model program for Cleveland Heights community members that teaches an anti-racist, strengths-based approach to neighborhood-level organizing.  Read on to learn more!
Neighborhood Mini-Grants Program
WHAT is this program: The FutureHeights Neighborhood Mini-Grant award (up to $1,000) is for citizen-led projects that benefit Cleveland Heights and University Heights neighborhoods. The intention of the Neighborhood Mini-Grants program is to offer support to Cleveland Heights and University Heights groups who wish to b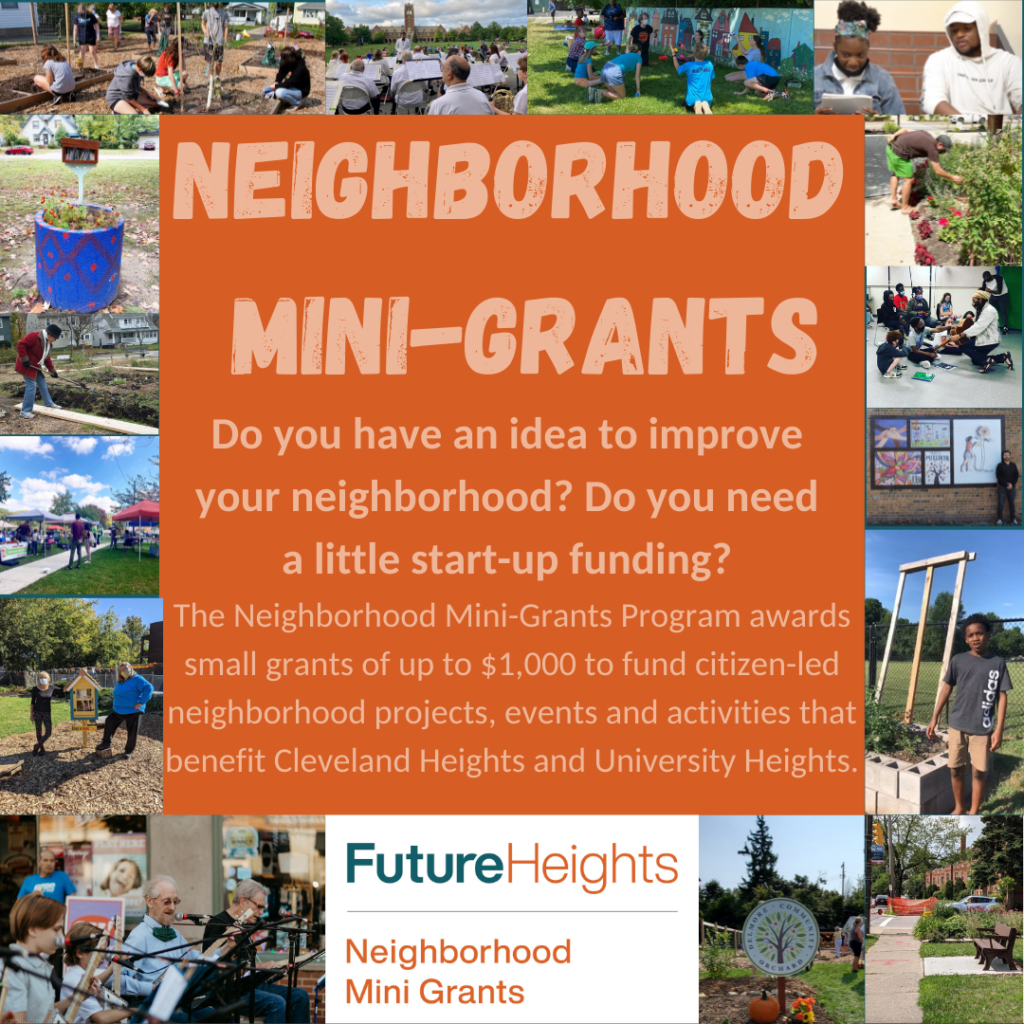 uild community by working together to start or sustain a neighborhood project or initiative.  Since 2015, we are proud to have provided mini-grant funding to 61 projects for a total of $40,838 awarded. Check out the past mini-grant projects.
WHO should apply: Cleveland Heights or University Heights residents, neighborhood associations, or organizations who need a little start-up cash to get their project up and running.
WHEN is it happening: We offer two rounds of the Neighborhood Mini-Grant every year: once in the spring and once in the fall.
WHY should you consider applying: FutureHeights' vision is to have vibrant neighborhoods that have increased resilience through grassroots participation in civic life. Through the utilization of a program like Neighborhood Mini-Grants, Cleveland Heights and University Heights neighborhoods become stronger as neighbors get to know each other, making them better equipped to address challenges in the physical and social environment.  This empowering program  activates the assets of everyday people, nonprofit organizations, and public resources and departments and establishes a legacy of pride and commitment to the place where the participants live, work, and play.
HOW TO APPLY: Applications are currently closed.  Please email Sarah at swolf@futureheights.org with questions.
DUE DATES: Applications are due March 15th (for the spring round) or September 15th (for the fall round) by midnight.
Fall 2022 Interview Night: TBD
Special thanks to our supporters and partners, the Cedars Legacy Fund and the McGinty Family Foundation 1989, for providing ongoing support for the Mini-Grants Program.
View the 2021 Neighborhood Mini-Grant Celebration here.
If you are interested in supporting an expansion of the Neighborhood Mini-Grant program, consider making a donation to increase our capacity to offer funding to more Heights residents ready to take on inspiring, community-building projects!
To make a donation to the Neighborhood Mini-Grant program, start by clicking here.

When you scroll to the middle of the page, you will see a section asking if your donation has a special designation — selecting "FH Neighborhood Mini-Grants" from the dropdown menu.
Donating to this program directly impacts Heights neighborhoods — we thank you for considering!
Neighborhood Leadership Workshop Series
WHAT is this program: This *FREE* multidisciplinary neighborhood leadership development program is designed for individuals enthusiastic about positively contributing to the community in which they live, work and play. Participants not only develop leadership skills and gain knowledge and tools to help make their community strong, safe and vibrant, but also build life-long relationships through this cohort-model program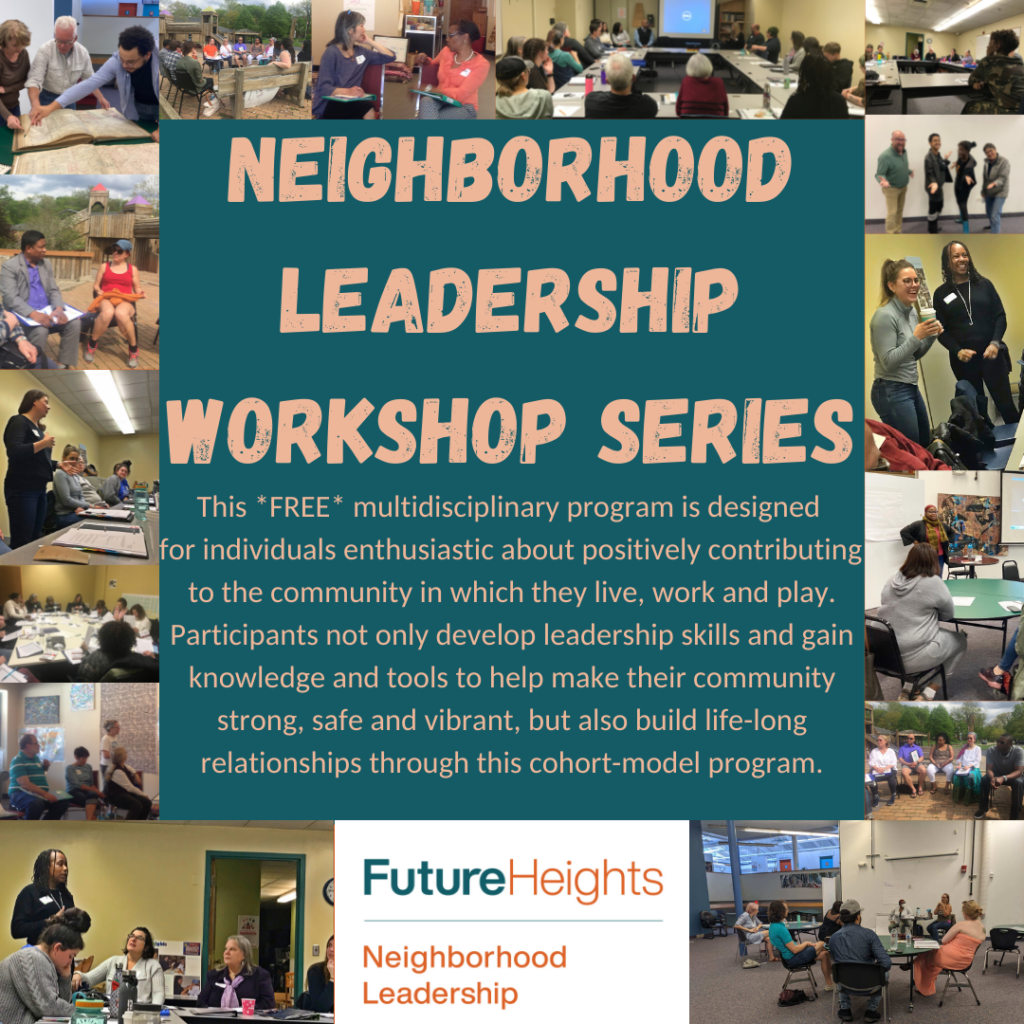 .
WHO should apply: Cleveland Heights residents who not only care about their neighborhood but want to gain skills and resources to take action right where they live.  We especially encourage anyone who is interested in working on a project seeking a FutureHeights Neighborhood Mini-Grant to participate in our leadership workshop series, though that is not a requirement to qualify for the mini-grant program.
WHEN is it happening: The Spring 2022 program dates are March 6, March 20, April 10, April 24, and May 15, all Sundays from 3pm-6pm. (Please note: the Spring 2022 cohort is full and the application period has closed)
WHERE is it happening: Our workshop sessions take place at FutureHeights, located in the Coventry P.E.A.C.E. building (2843 Washington Blvd.)
WHY should you consider applying: Do you have questions about the program or want to chat more before filling out an application?  Join an NLWS Info session or reach out to Sarah (swolf@futureheights.org) to set up a time to gain a greater understanding of how participating in the workshops could benefit you.
HOW to apply:  Please note: the application period has closed.  We typically offer this leadership workshop annually in the spring.  Stay tuned for 2023 dates!
Any additional questions, reach out to Sarah – swolf@futureheights.org.
If there any are other potential barriers to your attendance or any special accommodations you might need, please let us know so we can work with you to find a solution.  
Connect with your neighbors
Build community with your neighbors! We invite you to check our list of neighborhood-based organizations here to see if there is an already-formed group near you. Access our Neighborhood Training Manual for some tips on how to get started, build momentum, and keep those neighborly connections going over time!
We also strongly encourage you to participate in our Crowdsourced Conversations forum series — more information here.
Connect with Sarah
Sarah Wolf (MFA, MSSA, LSW) is our Community Capacity-Building Programs Manager — she's your go-to with any questions about the leadership or mini-grant programs as well as any questions related to our Community & Civic Engagement Committee.  Sarah has a +20 year background in small business management, as well as advanced academic degrees in writing and social work.  A 2021 graduate of the Mandel School at Case Western Reserve, she specialized in Community Practice for Social Change where she focused on an Asset Based Community Development (ABCD) methods & techniques framework with an anti-racism, diversity equity and inclusion lens. She is available for coaching and other support you or your neighborhood group might want.  Email is the best way to reach her – swolf@futureheights.org.  Reach out anytime, even if just to say hi!
Thank you for your support
FutureHeights was awarded Community Development Block Grant (CDBG) funds to create and sustain our community building program that engages residents in several neighborhoods with the highest needs, train leaders, provide a process for identifying their neighborhood assets and needs, and brings people together to create community action plans. The result is empowered citizens working with each other, acting on what resources and strengths they already have and connecting to resources necessary to address their needs.
A big thank you to those who have given their support to these programs! Want your name added to the list? Donate securely to the Community Capacity-Building Program here.