FutureHeights is happy to welcome groups to use our conference room to host your meetings. Scheduling is on a first come-first served basis and is available during our regular hours (9am-5pm Monday-Friday).  If your group is looking to meet outside of our office hours, we may be able to accommodate, given staff availability and plenty of advanced notice.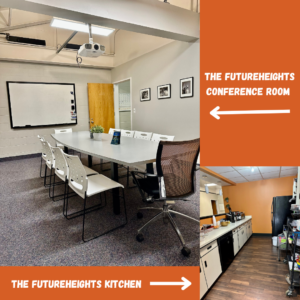 Our conference room is equipped with a screen, dry erase board/markers, and table/chairs. Requests for a laptop, projector, or other equipment owned by us must be made at the time of scheduling so we can let you know if the equipment is available.
The Conference Room may not be used for social gatherings such as showers, birthday parties, etc. and may not be used for political rallies or campaigns for specific partisan political uses or candidates. Additionally, our conference room may not be used by any individual, group or organization that is profit-making, commercial or entrepreneurial in nature. No attempts to fundraise, to solicit business, to sell or exchange goods, or services will be permitted.
There is no charge for use of the Conference Room.
Please review the complete Conference Room Use Policy here.
To inquire about making a reservation, please complete this form (PDF) and  and send it to info@futureheights.org or bbailey@futureheights.org.