2023 Heights Music Hop
Presented by FutureHeights in Partnership with the City of Cleveland Heights

Celebrating 10 Years!
Saturday, September 23, 10am to 12pm – Noble Gardeners' Market at Roanoke Noble Gardens
Saturday, September 23, 6pm to 10pm – Cedar Lee Business District
The Annual Heights Music Hop is a one of kind music festival combining great local music with local businesses in Cleveland Heights to support local shopping, businesses, and musicians while promoting the Heights as a great place to live, own a business or visit.

The Passport is now active! Visit and check-in at participating businesses you'll earn points toward winning a CARLO ROBELLI G600CE DREADNOUGHT ACOUSTIC-ELECTRIC GUITAR PACKAGE from Sam Ash Music, the Heights Music Hop Gift Basket full of Music Hop merch, restaurant gift cards, and other cool stuff, or a gift certificate toward a purchase of a bike compliments of Ohio City Bicycle Co-op. Check-In at the Heights Music Hop Headquarters and get a free Music Hop Koozie, while supplies last!


Ride to the Hop
Remember, walk or "Ride to the Hop" and leave parking worries at home. Heights Bicycle Coalition is organizing a ride, 4pm, $:30pm rollout, at Best Gyros, 2245 Lee Road. And, when you ride your bike, park it safely, FREE, all night at the
Future Heights Bike Valet

brought to by Heights Bicycle Coalition and The Ohio City Bicycle Co-op located at the public parking lot on Lee/Meadowbrook.
Thanks for attending the Hop! We would love your feedback.
Scan to take the survey (less than 5 minutes)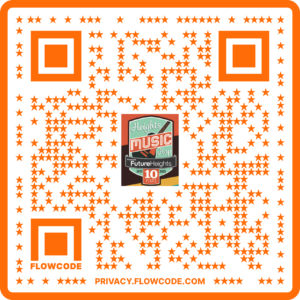 OR: Click here to complete the feedback form.
Thank You Business Venues & Sponsors!
Main Stage Venue & Sponsor

Best Gyros
Boss Dog Brewing Company
CLE Urban Winery
The Tavern Company
Voodoo Brewery
Side Stage Venue & Sponsor

Callaloo Cafe
Cornerstone Lounge & Grille
Dewey's Pizza
Heights Arts
Marchant Manor Cheese
Mitchell's Fine Chocolates
MoJo world eats & drink
New Heights Grill
Noble Gardeners' Market
S'il Vous Play
The Social Room
Main Stage Sponsor
Cedar Lee Special Improvement District
The Ascent @ Top of the Hill
Yosemite Construction & Management
Council President Melody Joy Hart
Side Stage Sponsor
Heights Bicycle Coalition
Noble Neighbors
Special Sponsor-Grantor
Cuyahoga Arts & Culture
Ohio Arts Council
For more information on the event, call or email Heights Music Hop Manager, Kasia Bufford, 216-320-1423 ext.105, Kbufford@futureheights.org