Welcome to our co-created ADEI resource library!
We know and believe that "Black History Month" is not only for February. FutureHeights is committed to utilizing a lens of Anti-Racism Diversity Equity and Inclusion (ADEI) in our work each and every day. We are forever on a quest to continue our education, both individually (as a staff member, board member, or committee member) and collectively.
As part of that process, our Community & Civic Engagement Committee (CCEC) is curating this resource library through input from the FutureHeights family and through our community partners, friends, and neighbors.  If you have a suggestion for an addition to the library, please click here and complete this form or email Sarah at swolf@futureheights.org.
If you are interested in joining CCEC, please email Sarah – swolf@futureheights.org.

ADEI RESOURCES/TOOLKITS
135 Racial Equity Resources for Education, Professional & Community Development, Health, and Civil Rights (College Consensus)
Anti-Racism Toolkit (Stanford University)
CACE Community Conversations: Student Toolkit (Cuyahoga County Citizens' Advisory Council on Equity)
Guide to Undocumented Immigrants' Rights, Benefits, & Resources
Jemez Principles for Democratic Organizing (Environmental Justice/Environmental Racism)
Racial Justice Impact Assessment (The Center for Racial Justice Innovation)
ACTIONS/ACTIVITIES/TRAINING
The Looking Glass Exercise (2021) (Dr. Adrianne Fletcher & The Community Innovation Network)
Stand Against Racism Challenge (YWCA)
Free By-Stander Intervention Trainings (Right to Be – formerly Hollaback)
Implicit Bias Test (Harvard University)
Neighborhood Leadership Workshop Series (FutureHeights)
Neighborhood Leadership Development Program (Jack, Joseph and Morton Mandel Foundation)
Racial Equity Institute Workshops (3rd Space Action Lab; these workshops have a participant fee)
LOCAL GROUPS/ORGANIZATIONS
Birthing Beautiful Communities
Community & Civic Engagement Committee (CCEC) (FutureHeights)
Community Innovation Network (Case Western Reserve University)
Diversity Center of Northeast Ohio
Racial Justice Task Force (City of Cleveland Heights)
Social Justice Institute (Case Western Reserve University)

NONFICTION BOOKS
(alphabetical by author last name)
One Person, No Vote by Carol Anderson
White Rage by Carol Anderson
A Black Woman's History of the United States by Daina Berry-Raimey and Kali Nicole Gross
Community: The Structure of Belonging by Peter Block
Emergent Strategy: Shaping Change, Changing Worlds by Adrienne Brown
You Are Your Best Thing: Vulnerability, Shame Resilience, and the Black Experience edited by Tarana Burke and Brené Brown
The Deepest Well by Dr. Nadine Burkes
The Person You Mean to Be: How Good People Fight Bias by Dolly Chugh
African People in World History by John Henrik Clarke
Between the World and Me by Ta-Nehisis Coates
When Everything Changed: The Amazing Journey of American Women from 1960 to the Present by Gail Collins
They Poured Fire on Us from the Sky: The True Story of Three Lost Boys of Sudan by Alephonsion Deng, Benson Deng, & Benjamin Ajak
White Fragility: Why It's So Hard for White People to Talk About Racism  by Robin DiAngelo
The Spirit Catches You and You Fall Down: A Hmong Child, Her American Doctors, and the Collision of Two Cultures by Anne Fadiman
The Strong Black Woman: How a Myth Endangers the Physical and Mental Health of Black Women by Marita Golden
1619 Project by Nikole Hannah-Jones
Rest is Resistance: A Manifesto by Tricia Hersey
The Everyday Language of White Racism by Jane Hill
Minor Feelings: An Asian American Reckoning by Cathy Park Hong
Feminism is for Everybody: Passionate Politics by bell hooks
Teaching to Transgress by bell hooks
Call Me American: A Memoir by Abdi Nor Iftin
Resisting Segregation by Susan Kaeser
The Loneliest Americans by Jay Caspian Kang
How to Be An Anti-Racist by Ibram X. Kendi
Stamped from the Beginning: The Definitive History of Racist Ideas in America by Ibram X. Kendi
Be the Bridge by Latosha Morrison
Speak: Find Your Voice, Trust Your Gut, and Get from Where You Are to Where You Want to Be by Tunde Oyeneyin
What Happened to You? Conversations on Trauma, Resilience, and Healing by Dr. Bruce Perry and Oprah Winfrey
Represent: The Women's Guide to Running for Office and Changing the World by June Diane Raphael & Kate Black
You Can't Touch My Hair — And Other Things I Still Have to Explain by Phoebe Robinson 
The Color of Law: A Forgotten History of How Our Government Segregated America by Richard Rothstein
Me and White Supremacy: Combat Racism, Change the World, and Become a Good Ancestor by Layla Saad
The Immortal Life of Henrietta Lacks by Rebecca Skloot
How the Word is Passed by Dr. Clint Smith
Driving While Black: African American Travel and the Road to Civil Rights by Gretchen Sorin
The Girl Who Smiled Beads by Clemantine Wamariya
The Autobiography of Malcolm X by Malcolm X
FICTION BOOKS
Homegoing by Yaa Gyasi
CHILDREN'S BOOKS
Black is Brown is Tan by Arnold Adoff, Illustrated by Emily Arnold McCully
* Follow The Conscious Kid on IG or FB for additional recommendations.
POETRY
"And Still I Rise" (Maya Angelou)
"Hope is a Woman Who Has Lost Her Fear" (Alice Walker)
ARTICLES
(alphabetical by author's last name)
"Behind the Critical Race Theory Crackdown" by Sam Adler-Bell
"What are Black-owned banks and how to support them" by Karen Bennett
"#MeToo Founder Tarana Burke: You Have to Use Your Privilege to Serve Other People" by Emma Brockes
"Financial literacy in the Black Community" by Rachel Christian
"Anti-Black practices take heavy toll on mental health" by Maxine Davis
"The nightmare of the newly woke" by Melissa DePino
"The Transatlantic Slave Trade" published by the Equal Justice Institute (EJI)
"Women of color in the workplace: The persistent obstacles and how you can rise to meet them" by Fingerprint for Success
"Bulldozed and bisected: Highway construction built a legacy of inequality" by Suzanne Gamboa, Phil McCausland, Josh Lederman and Ben Popken
"What is multi-cultural education?  Guidance for educators on culturally responsive teaching" – Grand Canyon University
"Ibram X. Kendi defines what it means to be anti-racist" by Ibram X. Kendi
"How to promote racial equity in the workplace" by Robert Livingston
"White Privilege: Unpacking the Invisible Knapsack" by Peggy McIntosh
"If family or friends are arrested" by O'Mara Law Group
"This Makes Me Feel Uncomfortable…And Other Distressing Emotions Associated with Learning about Race and Racial Identity" by Deborah Plummer, PhD
"Teach Black History – Don't Ban It" by Tracey Rogers
"Health Equity in Opioid Dependency Treatment: Differences in Opioid Treatment for Black and Latino Patients," medically reviewed by Rebekah L. Rollston, MD, MPH
"Highways gutted American cities. So why did they build them?" by Joseph Stromberg
"Black and Brown Placemaking Rooted in Identity and Ownership" by Ebony Walden
"What is Critical Race Theory (CRT)?" by Georgie Williams
"The untold tale of America's first spelling bee victor" by Nadine Yousif
SPEECHES
"Keep Moving From This Mountain" (Martin Luther King Jr.)
"There is No Hierarchy of Oppression" (Audre Lorde)
"Super Tuesday" (Barack Obama)
"Remarks by the First Lady during Keynote Address at Young African Women Leaders Forum" (Michelle Obama)
"Ain't I a Woman?" (Sojourner Truth)
ONLINE NEWSLETTERS/PUBLICATIONS

PODCASTS
(alphabetical by podcast series title)
1619 Project (New York Times)
Cleveland Justice System (Season 3 of Serial)
Code Switch (NPR)
Curtis Flowers (Season 2 of APM's In the Dark)
Dare to Lead (Brené Brown)
Inside the Bricks (NPR)
Season One:  Woodhill Homes
Season Two: My Changing Neighborhood
Intersectionality Matters! (African-American Policy Forum)
Keep It (Crooked Media)
Nice White Parents (New York Times)
Pod Save the People (Crooked Media)
Radiolab
Sounds Like Hate (Southern Poverty Law Center)
Throughline (NPR)
Unlocking Us (Brené Brown)
Why is this Happening? (Chris Hayes)

Please note: some of the suggestions listed here are available via subscription-based platforms like Netflix or HBO and may not be accessible for free.
DOCUMENTARY
13th (Ava DuVernay, Netflix)
Baltimore Rising (HBO)
The Black Church: This is Our Story, This is Our Song (PBS)
Black History, Black Freedom, and Black Love (MasterClass)
Ernie and Joe: Crisis Cops (HBO)
Holding Ground: The Rebirth of Dudley Street (New Day Films)
I Am Not Your Negro (James Baldwin)
Poor Kids (PBS)
True Justice: Bryan Stevenson's Fight for Equality (HBO)
The School That Tried to End Racism (Hulu)
 Unnatural Causes: Is Inequality Making Us Sick? (PBS)
MOVIE/FILM (not documentary)
TV SHOW
Black-ish (ABC)
Dear White People (Netflix)
A Different World (Amazon Prime)
Pose (FX)
RuPaul's Drag Race (MTV/Paramount+)
We're Here (HBO)
When They See Us (Netflix)
The Wonder Years (2021) (ABC)
YOUTUBE/TEDTALKS/SHORT VIDEOS
"And Still I Rise" (Maya Angelou)
"How Childhood Trauma Affects Health Across a Lifetime" (Dr. Nadine Burkes)
"The Urgency of Intersectionality" (Kimberlé Crenshaw)
"What is Intersectionality?" (Kimberlé Crenshaw)
"There is No Hierarchy of Oppression" (Audre Lorde)
"Toni Morrison on Trauma, Survival, and Finding Meaning" (Toni Morrison)
"Critical Race Theory" (Last Week Tonight with John Oliver)
"Social Work So White" (SWCares and Rachel Cargle)
"Sojourner Truth's 'Ain't I a Woman' Performed by Kerry Washington" 
"Hope is a Woman Who Has Lost Her Fear" (Alice Walker)

SOCIAL MEDIA ACCOUNTS
Adrienne Maree Brown – IG / FB
Austin Channing Brown – IG / FB
Be the Bridge – Facebook Group
Know Your Rights Campaign – IG / FB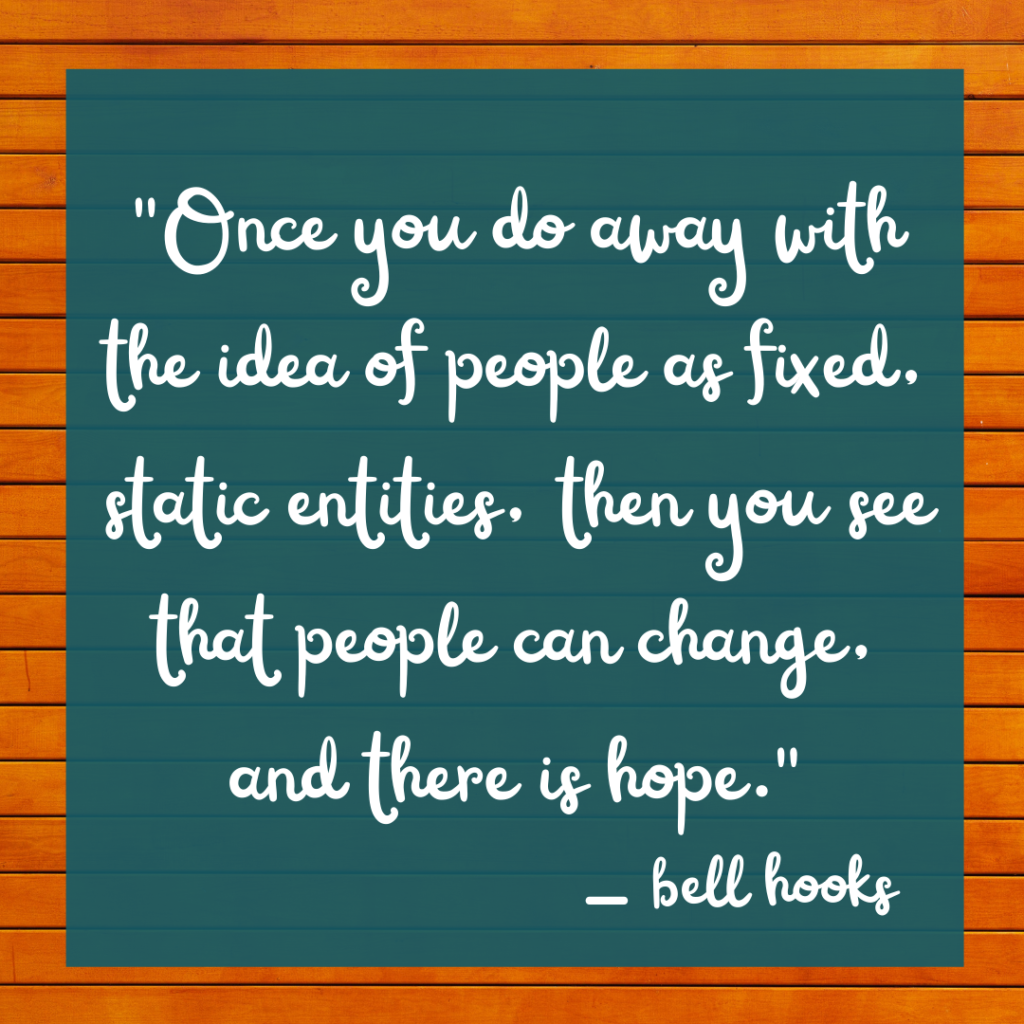 If you have any questions or feedback about this resource library, please reach out to Sarah – swolf@futureheights.org.