The FutureHomes Rehab Program
FutureHeights, in partnership with the City of Cleveland Heights and the Cuyahoga County Land Bank, initiated a housing rehabilitation program to help bring vacant homes back to productive use. Since its beginning in 2019, FutureHomes has been able to add 20 homes into the program, improving the economic, social, and environmental conditions in neighborhoods in which the properties are located. While it is important to have a diverse housing stock and options for all residents and households, homeownership often plays a vital role in fostering neighborhood stability. The FutureHomes program focuses on owner occupancy with hopes to provide wealth building opportunities through the purchase of a completely rehabbed home. When putting together the scope of work, there is a strong emphasis placed on restoring the historic character and incorporating modern amenities into to the homes.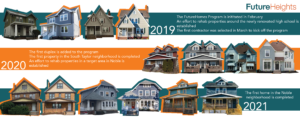 The Model Block Program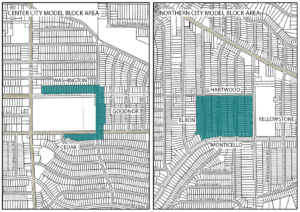 To increase the visible impact and focus on bettering conditions for existing residents in addition to new homeowners, FutureHeights developed a Model Block Program. A model block is a concentrated effort to improve streetscape conditions, exterior curb appeal, landscaping, promote safety and create strong relations to the surrounding community. The first model block was focused around CH UH High School to leverage the investments in the recent renovation. The second model block is in the Noble neighborhood near Monticello Middle School, where a concentration of FutureHomes rehab properties are located.
Grant Opportunities for Homeowners:
FutureHeights offers exterior mini-grants of up to $500 to homes located within the designated areas of the Model Block Program. The intent is to help provide assistance in exterior home projects for homeowners looking to make improvements on their properties.
Improvements can include painting, landscaping, lighting, and other elements that repair or restore the exterior character of the home. We are excited at the opportunity to help you with your projects!
Please email Micah – mekirman@futureheights.org – for more information.
Rehab Opportunities for Contractors:
In order to be considered for properties when they are available, FutureHomes requires the following paperwork to be completed:
Click here to view our FutureHomes Album on Facebook.
Any questions, please reach out to info@futureheights.org.