FutureHomes Project Update December 2023 
Work is well underway on Rossmoor and Englewood.  FutureHomes is working with two local contactors; Yosemite and Revived Housing Partners to bring these two homes back to life.  Featuring all new mechanical systems, new windows, new roof, new kitchens and new bathrooms, these homes will be available for sale to an owner occupant. 
If you are interested in purchasing either of these homes, please contact Hilary at hschickler@futureheights.org or 216-320-1423. 
Stay tuned for further updates!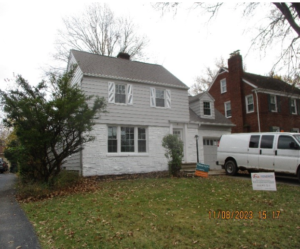 901 Englewood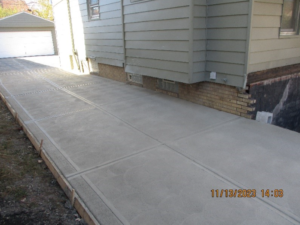 New driveway at 2124 Rossmoor 
ABOUT FUTUREHOMES:
FutureHeights, a non-profit, community development organization serving Cleveland Heights and University Heights, is happy to announce that they are accepting applications to renovate/develop two single family homes through the FutureHomes program. The homes feature 3 bedrooms, built in 1920's and 1940's and are ideal for the first-time homebuyer.
Cleveland Heights is a diverse, progressive, vital suburb just up the hill from University Circle with its museums, colleges and world-renowned medical facilities and is a convenient commute to downtown. Cleveland Heights possesses architectural features that are both of historic and aesthetic significance. FutureHeights is committed to preserving and protecting the community's housing stock, increasing homeownership and providing programs and opportunities to maintain and improve the quality of life in our community.
The FutureHomes Rehab Program
FutureHeights, in partnership with the City of Cleveland Heights and the Cuyahoga County Land Bank, initiated a housing rehabilitation program to help bring vacant homes back to productive use. Since its beginning in 2019, FutureHomes has been able to add 20 homes into the program, improving the economic, social, and environmental conditions in neighborhoods in which the properties are located. While it is important to have a diverse housing stock and options for all residents and households, homeownership often plays a vital role in fostering neighborhood stability. The FutureHomes program focuses on owner occupancy with hopes to provide wealth building opportunities through the purchase of a completely rehabbed home. When putting together the scope of work, there is a strong emphasis placed on restoring the historic character and incorporating modern amenities into to the homes.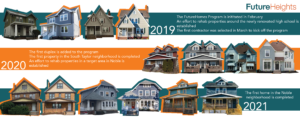 Click here to view our FutureHomes Album on Facebook.
Any questions, please reach out to Hilary at hschickler@futureheights.org.