WELCOME TO THE RESOURCE PAGE FOR OUR CROWDSOURCED CONVERSATION FORUM ON THE TOPIC OF COMMUNITY SAFETY!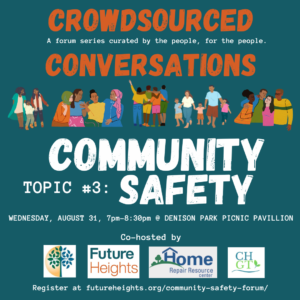 On Wednesday, August 31, 2022, approximately 30 Heights residents gathered at Denison Park to participate in a discussion-based forum where small groups engaged in conversation about community safety.  Special thank you to Councilwoman Gail Larson and Robert Lampley, representing the City of Cleveland Heights Racial Justice Task Force, as well as Chief of Cleveland Heights Police Chris Britton, for their opening remarks!
We recognize that these conversations are first steps, not final solutions.  Each group identified something actionable they could do as everyday residents to be the change they wish to see in their communities:
A few suggested action steps that came out of each group's discussion:
BLUE GROUP: Encourage more of a "front porch culture" to help neighbors not only keep an eye on the street but foster more opportunities to get to know each other.
GREEN GROUP: Advocate for a regular column in the Heights Observer for the police department to keep residents up-to-date about what is happening in the community — possibly also including opportunities for community members to write in questions for members of the police force to answer.
ORANGE GROUP: Complete the traffic calming petition for your street.
PINK GROUP: Organize a block party to get to know neighbors better and set up a way to communicate with each other about anything happening in the neighborhood.
RED GROUP: Streamline and simplify the who-to-call-when protocols if non-emergency situations arise — having a clear sense of the best number to call would empower residents to get the support they might need in an easy and clear way.
Here are some additional ideas for action steps:
Resources: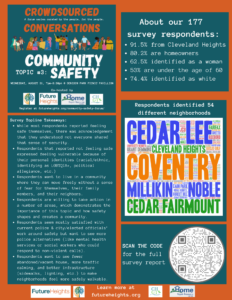 If you have suggestions for additional resources, please email Sarah – swolf@futureheights.org.