NEIGHBORHOOD LEADERSHIP WORKSHOP SERIES (NLWS)

WHAT is this program: This *FREE* multidisciplinary neighborhood leadership development program is designed for individuals enthusiastic about positively contributing to the community in which they live, work and play. Participants not only develop leadership skills and gain knowledge and tools to help make their community strong, safe and vibrant, but also build life-long relationships through this cohort-model program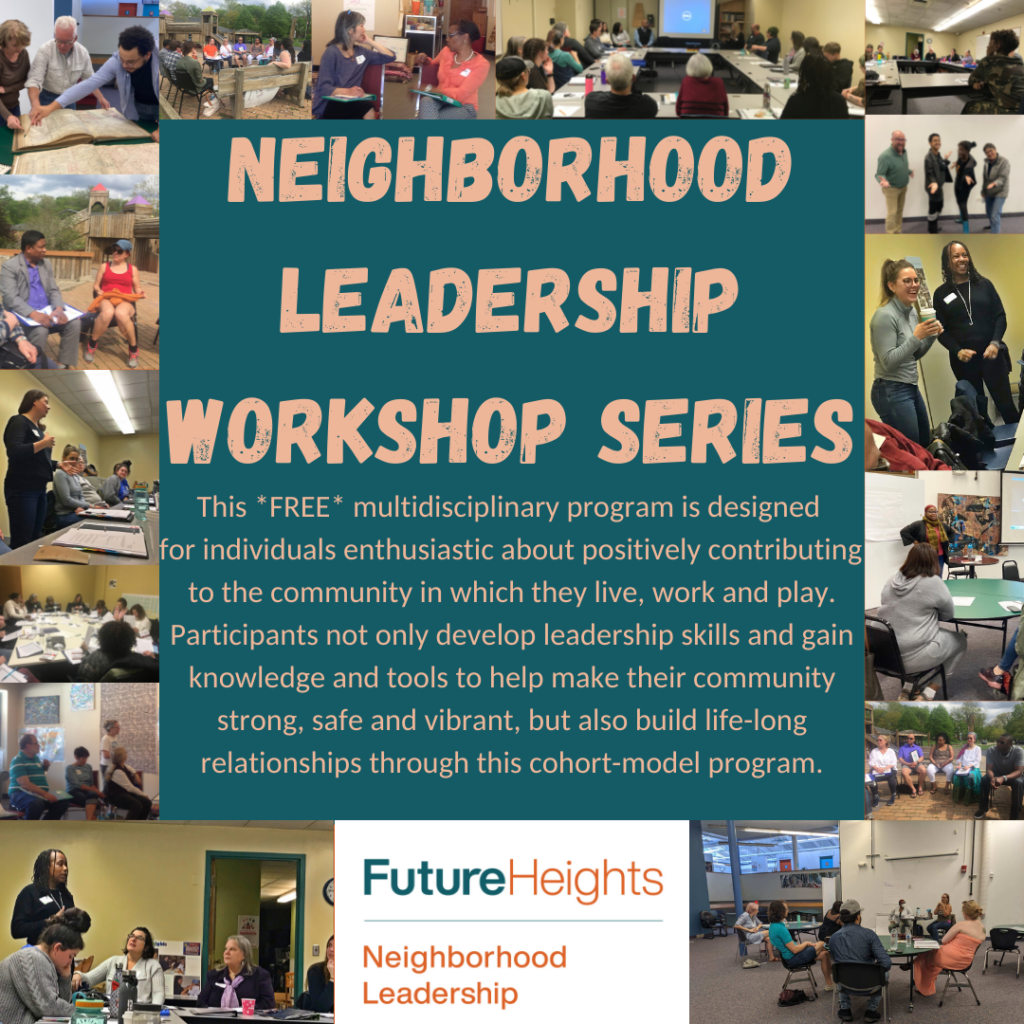 .
WHO should apply: Cleveland Heights residents or stakeholders who not only care about their neighborhood but want to gain skills and resources to take action right where they live.  We especially encourage anyone who is interested in working on a project seeking a FutureHeights Neighborhood Mini-Grant to participate in our leadership workshop series, though that is not a requirement to qualify for the mini-grant program.
WHEN is it happening: The 2023 program dates are January 22, February 5, February 26, March 12, and March 26 — all Sundays from 3pm-6pm. Participants must commit to attending all five sessions in order to be accepted into the program.
WHERE is it happening: Our workshop sessions take place at FutureHeights, located in the Coventry P.E.A.C.E. building (2843 Washington Blvd.)
WHY should you consider applying: Do you have questions about the program or want to chat more before filling out an application?  Join an NLWS Info session or reach out to Sarah (swolf@futureheights.org) to set up a time to gain a greater understanding of how participating in the workshops could benefit you.
HOW to apply:  Fill out this form. Sarah will reach out to you within a week of your application being submitted to schedule a brief (15-30 minute) interview to be held via Zoom.
DEADLINE to apply: Friday, January 13, 2023.  Space is limited and the workshop may fill up before the deadline, so don't wait to apply!
If there any are other potential barriers to your attendance or any special accommodations you might need, please let us know so we can work with you to find a solution.
Any additional questions, reach out to Sarah – swolf@futureheights.org.
Do you have questions about NLWS?  Join an info session where you can chat more with Sarah about the program, the skills you'll gain, and the other opportunities this game-changing program can bring into your life!
Info Session dates:
Wednesday, October 12th @ 4pm on Zoom
Wednesday, November 16th @ 4pm on Zoom
Wednesday, November 30th @ 4pm on Zoom
Wednesday, December 14th @ 4pm on Zoom
Wednesday, January 4th @ 4pm on Zoom
RSVP to get the Zoom link here.
If you can't attend any of these sessions but still would like to chat more about program, never fear!  Email Sarah – swolf@futureheights.org – to set up a time that works better for you.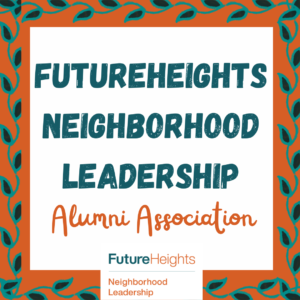 About our recent program graduates…
Spring 2020

had 15 graduates representing 12 different neighborhoods. 

9 of the graduates are in known community leadership roles. 

Fall 2021 had 6 graduates representing 5 different neighborhoods.  5 of the graduates are in known community leadership roles. (This program ran "off-season," thus the lower enrollment number — but what a fantastic cohort of incredible leaders!)
Spring 2022

had 11 graduates representing 6 neighborhoods. 9 of the graduates are in known community leadership roles.
The NLWS Alumni Association…
In Spring 2022, the NLWS Leadership Alumni Association began!  33 previous program graduates are currently participating in our quarterly meetups, which happen in February, May, August, and November — or whenever an alumni member suggests an activity or a spot to meetup!
While Sarah helps to facilitate this group, the group members are the true leaders of what the Alumni Association does.  It's a great opportunity to do some skill-share, community-building, idea swapping, and have some good old fashioned conversation.
Group members can opt to be part of a private Facebook Group and email list to keep in touch in between meetups.