Welcome to the resource page for our Crowdsourced Conversation forum on the topic of Sustainability!
On Wednesday, April 27, 2022, approximately 50 Heights residents gathered at Coventry PEACE to participate in a discussion-based forum where small groups engaged in conversation about earth-friendly practices.  Special thank you to Councilwoman Josie Moore and the Cleveland Heights Green Team for their opening remarks!
While it was undoubtedly an evening of energizing and enthusiastic dialogue, we recognize it is only a first step.  The goal of our forum series is to spark ideas and connect residents to keep the momentum going even after the event has concluded.
As folks arrived at our forum, we asked them to share what brought them to the event: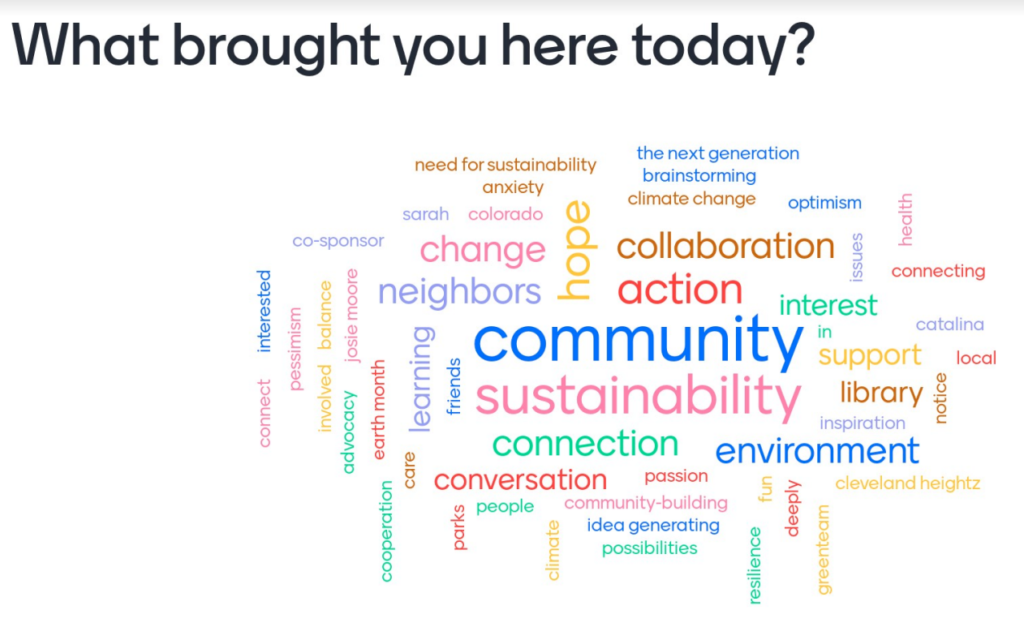 And if this is how it started, then, by the end, this is how it was going: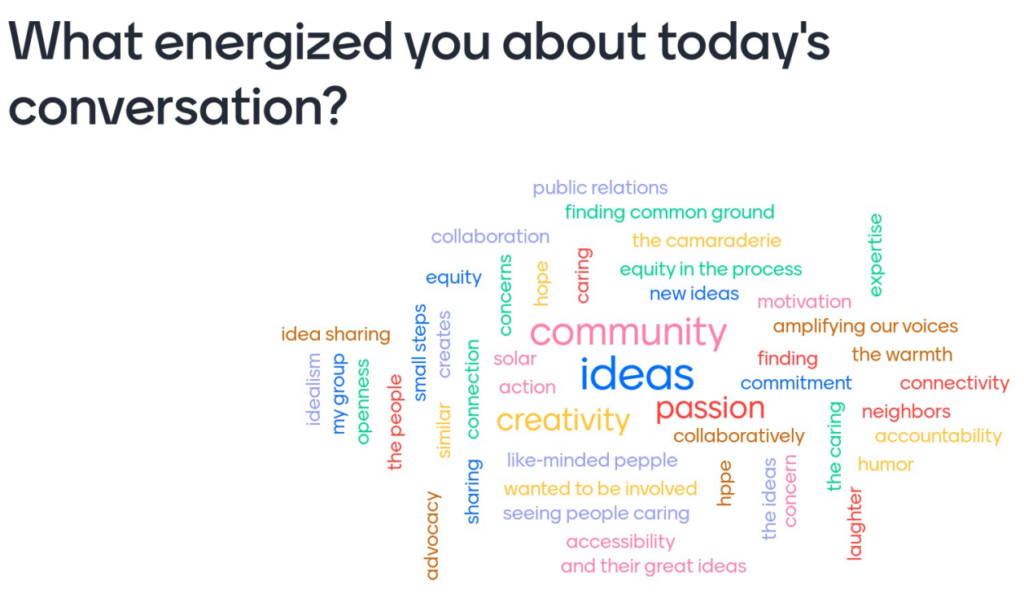 We all want to know, though:  What's Next?
The answer is up to you.
Here are some ideas:
Host your own small group action-oriented discussions with your family, friends, and neighbors.  You can even use our Sustainability Forum – Small Group Discussion Questions to get you started!
Do small group/individualized research about the (for example) new recycling program and brainstorm ways to share what is recyclable versus not with neighbors.
Attend City Council meetings and, in general, be aware of what is on City Council agendas.
Write articles or op-eds — or maybe even inquire about being a columnist — for the Heights Observer.
Connect with Cleveland Heights Green Team, Friends of Heights Parks, or other neighborhood groups to engage with their activities.
Join us for the next Crowdsourced Conversation forum to meet other engaged Heights residents.
Resources:
Have suggestions about other resources or ideas to add to the list about how to get involved?  Email Sarah – swolf@futureheights.org.
We hope you can join us for a future Crowdsourced Conversation event.  Learn more here.