Community Building Programs
Community Building encompasses a wide variety of activities including block parties, front lawn or porch gatherings, tool sharing, regular neighborhood meetings, network trees and more.
Interested in building community in your neighborhood? Check our list of neighborhood-based organizations here. Didn't find your neighborhood listed? Try Nextdoor.com. Still no luck? See our organizing toolbox to help residents create a neighborhood organization, and give us a call if you need help.
Neighborhood Mini-Grants Program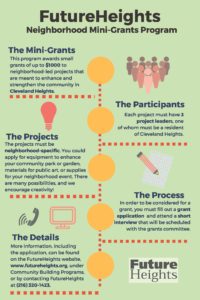 Have an idea to improve your neighborhood? Need a little start-up funding? The Neighborhood Mini-Grants Program awards small grants of up to $1,000 to fund citizen-led neighborhood projects, events and activities that benefit Cleveland Heights. Special thanks to our supporter and partner, the Cedars Legacy Fund, for providing ongoing support for the Mini-Grants Program.
The Neighborhood Mini-Grants Program is guided by a grant-making committee comprising seven Cleveland Heights residents with a history of community involvement. 
Apply for a Grant! The next application deadline is Friday, September 15, 2017, at 5 p.m. 
We are pleased to share that we have completed four grant cycles! Learn more about all of our funded projects: Fall 2015 Projects, Spring 2016 Projects, Fall 2016 Projects, Spring 2017 Projects.
For more information contact us at 216-320-1423 or sbasu@futureheights.org.
Community-Building Workshop Series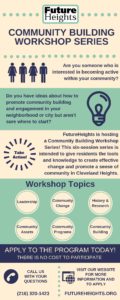 The third round of the Community-Building Workshop Series is underway. This multidisciplinary neighborhood leadership development program is designed for individuals enthusiastic about positively contributing to the community in which they live, work and play. Participants will develop leadership skills as well as gain knowledge and tools to help make their community strong, safe and vibrant.
The Community-Building Workshop Series takes place on Sunday afternoons from 3 to 6 p.m. The dates and topics for each workshop are as follows:
Feb. 19: Individual Leadership and Volunteer Organizational Development
March 5: Process of Community Change
March 19: Cultural and Political History of Cleveland Heights and its Future
April 2: Leveraging Community Assets
April 9: Planning for a Community Program or Project
April 30: Effective Network-Building Practices
All Cleveland Heights residents are encouraged to participate in the workshops. For questions about the program, contact us at 216-320-1423 or sbasu@futureheights.org.
Community Capacity-Building Program
FutureHeights was awarded Community Development Block Grant (CDBG) funds to create and sustain our community building program that engages residents in several neighborhoods with the highest needs, train leaders, provide a process for identifying their neighborhood assets and needs, and brings people together to create community action plans. The result is empowered citizens working with each other, acting on what resources and strengths they already have and connecting to resources necessary to address their needs.
A big thank you to those who have given their support to this program! Want your name added to the list? Donate securely to the Community Capacity-Building Program here.