Community Building Programs
Community Building encompasses a wide variety of activities including block parties, front lawn or porch gatherings, tool sharing, regular neighborhood meetings, network trees and more.
Interested in building community in your neighborhood? Check our list of neighborhood-based organizations here. Didn't find your neighborhood listed? Try Nextdoor.com. Still no luck? See our organizing toolbox to help residents create a neighborhood organization, and give us a call if you need help.
Neighborhood Mini-Grants Program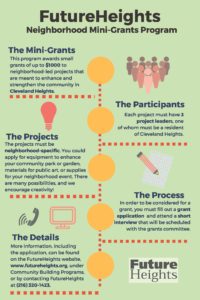 Have an idea to improve your neighborhood? Need a little start-up funding? The Neighborhood Mini-Grants Program awards small grants of up to $1,000 to fund citizen-led neighborhood projects, events and activities that benefit Cleveland Heights and University Heights. Special thanks to our supporters and partners, the Cedars Legacy Fund and the McGinty Family Foundation 1989 , for providing ongoing support for the Mini-Grants Program.
Apply for a Grant! Applications are due on March 15 (Spring Round) or Sept. 15 (Fall Round) by midnight. Apply using this Google Form or by printing and mailing your application back to us. Please email Sarah at swolf@futureheights.org with any questions.
We are pleased to share that we have completed nine grant cycles! Learn more about all our funded projects.
The Neighborhood Mini-Grants Program is guided by a grant-making committee comprising seven Cleveland Heights residents with a history of community involvement. All applicants interview with the grant-making committee.
Neighborhood Leadership Workshop Series
Be part of our eighth leadership cohort — we are now accepting applications for the Spring 2022 Neighborhood Leadership Workshop Series!
WHAT is this program: This *FREE* multidisciplinary neighborhood leadership development program is designed for individuals enthusiastic about positively contributing to the community in which they live, work and play. Participants not only develop leadership skills and gain knowledge and tools to help make their community strong, safe and vibrant, but also build life-long relationships through this cohort-model program.
WHO should apply: Cleveland Heights residents who not only care about their neighborhood but want to gain skills and resources to take action right where they live.  We especially encourage anyone who is interested in working on a project seeking a FutureHeights Neighborhood Mini-Grant to participate in our leadership workshop series, though that is not a requirement to qualify for the mini-grant program.
WHEN is it happening: The Spring 2022 program dates are March 6, March 20, April 10, April 24, and May 15, all Sundays from 3pm-6pm.
WHERE is it happening: Our workshop sessions take place at FutureHeights, located in the Coventry P.E.A.C.E. building (2843 Washington Blvd.)
WHY should you consider applying: Do you have questions about the program or want to chat more before filling out an application?  Join an NLWS Info session or reach out to Sarah (swolf@futureheights.org) to set up a time to gain a greater understanding of how participating in the workshops could benefit you.
HOW to apply: Complete either this this Google Form or this Fillable PDF – 2022 NLWS Application. The fillable PDFs can either be emailed to Sarah (swolf@futureheights.org) with the subject line "NLWS Application" or mailed to the FutureHeights office (FutureHeights c/o Sarah Wolf, 2843 Washington Blvd. Cleveland Heights, OH 44118). Applications are due by February 18, 2022 at midnight.
Any additional questions, please check out an upcoming info session or reach out to Sarah – swolf@futureheights.org.
Free childcare is available if needed during each session.  Please let us know in advance if that will be useful to you in one or more of the sessions.  If there any are other potential barriers to your attendance or any special accommodations you might need, please let us know so we can work with you to find a solution.  
Got questions?  Register in advance here to attend an info session about our mini-grants and leadership workshop programs.  Can't make an info session?  No problem!  Sarah is available to meet with you at a time of your convenience — email her at swolf@futureheights.org to set up a one-on-one.
Community Capacity-Building Program
FutureHeights was awarded Community Development Block Grant (CDBG) funds to create and sustain our community building program that engages residents in several neighborhoods with the highest needs, train leaders, provide a process for identifying their neighborhood assets and needs, and brings people together to create community action plans. The result is empowered citizens working with each other, acting on what resources and strengths they already have and connecting to resources necessary to address their needs.
All Cleveland Heights residents are encouraged to participate in our Community Capacity-Building Programs. For questions or more information, contact us at 216-320-1423 or swolf@futureheights.org.
A big thank you to those who have given their support to this program! Want your name added to the list? Donate securely to the Community Capacity-Building Program here.