May the 4th Be With You – A Spring Open House
MAY THE 4TH BE WITH YOU
WHEN & WHERE • May 4, 2023 at Coventry PEACE Campus, 2843 Washington Blvd.
Doors open at 5:30pm. At 6pm, we will unleash the full power of leadership as we introduce our new Executive Director, Kristine Pagsuyoin, and highlight the transformative impact of our FREE programs. As you mingle with like-minded rebels, you'll be able to enjoy a variety of themed refreshments. Join a committee or become a member of our organization, and experience the power of community building. You'll also have the chance to win exciting prizes and enjoy special drawings, all while hearing from community leaders and staying informed about the latest developments throughout the Heights galaxy. Don't miss this opportunity to harness the force and build a brighter future at FutureHeights.
Join us for MAY THE 4TH BE WITH YOU, and let's unite our powers to create positive change in our neighborhoods!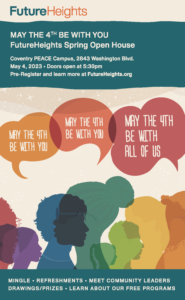 NO RSVP IS REQUIRED, but certain appreciated — click HERE for the Eventbrite link.  All are welcome.  This event is free to attend.
Any questions, please email us at info@futureheights.org.