Heights Music Hop: Sept. 23 and 24, 2016
Join us for the 4th annual Heights Music Hop. In 2016, we've expanded for a double dose of Heights Music Hop events!
Friday, 9/23/16. Cedar Fairmount. Start time: 5 p.m.
Saturday, 9/24/16. Cedar Lee. Start time: 3 p.m.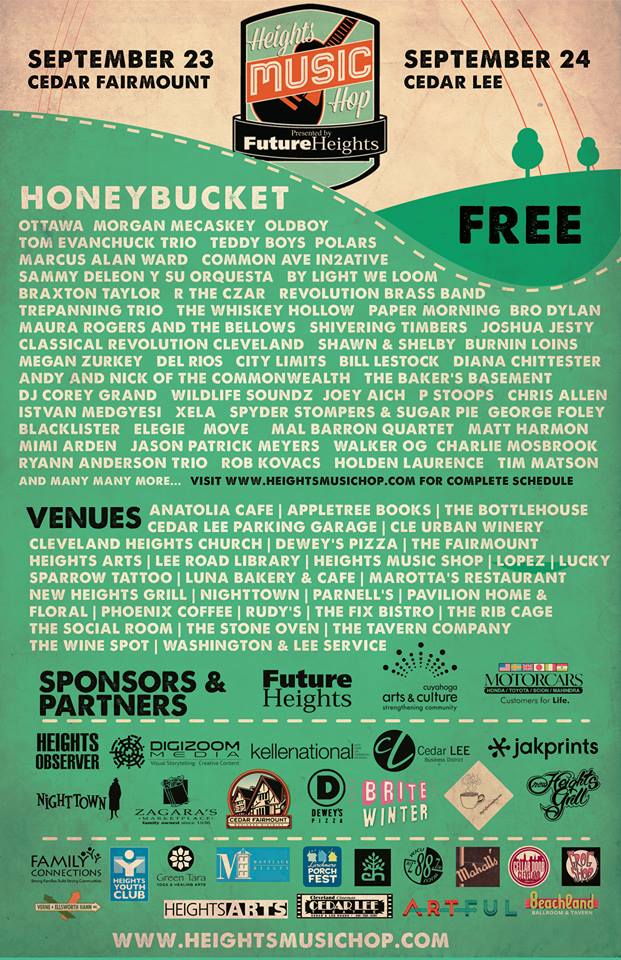 On Friday, Sept. 23, we'll hop through the Cedar Fairmount Business District and on Saturday, Sept. 24, we'll return to Cedar Lee, which has hosted the Hop in Cleveland Heights for the past three years. Friday night will feature a VIP fundraiser at Nighttown to benefit the Heights Music Hop and FutureHeights.
Heights Music Hop, an initiative of FutureHeights, is a multi-venue annual event using music as the vehicle to help build community for Heights residents and raise awareness of the Heights as a destination for those living outside the community. We  invite all to attend and bring your friends. It will be an event not to be missed. For more information on this year's event, to become a sponsor or volunteer, visit the Heights Music Hop website.
Watch this video of last year's Hop highlights to get a glimpse of this incredible community event.
Of course, the Heights Music Hop is always free thanks to a generous grant from Cuyahoga Arts & Culture.