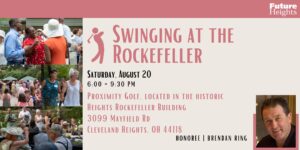 Thanks to everyone who came out to "par-tee" with us as we celebrated 20 years of service to The Heights!
About this event
It's time for the most anticipated Cleveland Heights party of the summer. Join us as we celebrate 20 years of service while dancing the night away.
Enjoy heavy appetizers, local libations and desserts from a variety of the Heights' finest establishments.
Most of all, enjoy the company of residents, like you, who care deeply about the future of our community and want to see it grow and thrive!
Our 2022 honoree is Brendan Ring.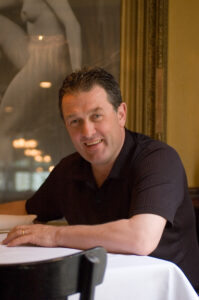 A native of Ireland and a naturalized U.S. citizen, Brendan Ring arrived in New York City in 1984, eventually ending up as the owner of Joxer Daley's, a legendary bar in Queens.  Following his American-born wife's job, Brendan and Siobhan moved to Cleveland in 1992 where he took a job working for well-known restaurateur, John Barr, owner of Nighttown, Watership Down and Raintree.  Quickly working his way up to manager of Nighttown, Brendan purchased the restaurant in 2001.  Over the next 29 years, Brendan created a restaurant and nightclub unlike any other in N.E. Ohio, warranting repeated inclusion on Downbeat's List of the Best Jazz Clubs in the World.
Additional details available with ticket purchase.
Host Committee | Kimberlee Jones, Event Chair
Robert Brown, Amanda Isaacson, Joy Roller, Tammy Wise, Thomas Eastman, Matt Katz, Julie Sabaroff, Karen Malone Wright, Achy Fehn, Micah Kirman, Stephen G. Sokany, Matthew Wymer, Julie Hammond, Gierke Rhonda Davis Lovejoy, Amy Wainwright, Bruce Hennes, Polly Mytinger, Katrina Walker
About The Organization:
FutureHeights envisions Cleveland Heights and University Heights as national examples of communities that are equitable, sustainable, and inclusive; culturally rich and diverse, with thriving local businesses, attractive neighborhoods, and a deeply engaged citizenry.
Thank You To Our Sponsors :
Presenting |
Robots Done Right: The best place to find used industrial robots
Emerald |
Anya & John Rudd
The Willoughby Family
WXZ Development
Gold |
Brendan Ring
Flaherty and Collins Properties
Gordon & Sarah Wean
RDL Architects
Silver |
Carmen Iamarinno, 5th Avenue Appraisers
Chris Jacobs
Cornerstone Design and Renovations
Cross Country Mortgage
Dawn Jordan and Sal Russo, Cedar Grandview Co & Heights Medical Building
Helen Hertz
Historic Preservation Group
Jeff Shoykhet
Keller National Insurance
Joy Roller
Laura Junglas
Marge & Dan T. Moore
Nell Kirman
Nighttown & Red The Steakhouse
Oliver Architecture
Robert Brown and Susan Berger
Robert & Julie Namy
Tawny Ratner
Bronze |
Amanda Isaacson
Char and Chuck Fowler
Cleveland Heights Green Team
Charles Schwab
Ilene Frankel
Ketti Finnernan & Rick Brown
Laura Junglas
Lita Gonzalez and Mark Phillips
Bruce Hennes & Regina Brett
Mac's Back Books Coventry
Mark Chupp & Sharon Shumaker
Rico Pietro
Seth Task (Task Team Realtors)
Stephen Statler
Sustainable Community Associates
as of 8.17.22
Interested in sponsoring this year's event? Please contact Micah Kirman at mekirman@futureheights.org to learn about our various offerings listed in the ticket prices.