CHGT's Fall 2022 Eco Fair
FutureHeights is proud to partner with the Cleveland Heights Green Team on their Fall 2022 Eco Fair.  CHGT on the event, in their own words:
The purpose of the Heights Eco Fair is to raise awareness about issues and solutions, find opportunities to volunteer and contribute to ongoing efforts, and to spark ideas for new collaborations." The lineup of exhibitors and partners is extensive and organized in four categories: Sustainable Living, Healthy Living, Eco Kids, and Swap Zone.

Please support this community effort by helping us promote the event through your social media, with neighbors, family, and friends. There are also a significant number of opportunities to volunteer since the fair will be double the size from last year, with more exhibitors, activities, and partnerships.
Join the fun on Saturday, October 8 from 12pm-4pm at the Coventry PEACE Park!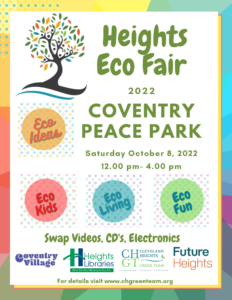 Volunteers Needed!  Click here if you're interested in helping out.
Volunteer options:
11.00 am-12.00 pm: Set up
12.00 pm-2.00 pm: Welcome Table; CHGT Table; CHGT Recycling Challenge – Art Exhibit
12.00 pm-4.00 pm: Master of Ceremony/DJ; Guest Services (ensure event is running smoothly)
4.00 pm-4.30 pm: Clean up