A Summer Night's Dream: The FutureHeights Annual Benefit
Please join us for A Summer Night's Dream, FutureHeights' 5th annual benefit, celebrating our 21 years of service to the Cleveland Heights and University Heights communities.
Gather with us at the Nature Center at Shaker Lakes on Saturday, July 29, from 6-9:30 PM, in one of the many enchanting parks that make our community such a magical place to live. As a guest, you will fall under FutureHeights' spell as you stroll the grounds by starlight. You'll enjoy music, dancing, delicious bites, and libations from a variety of the Heights' finest establishments. There are sure to be surprises around every turn as you meander the boardwalk in the company of friends who, like you, care deeply about the future of our community and want to see it grow and thrive!
We are thrilled to announce that this year we are celebrating FutureHeights' Person of the Year, John Zagara, for his 31 years of service to the community operating Zagara's Marketplace.
FutureHeights is an independent community development corporation (CDC) serving Cleveland Heights and University Heights. Your support allows us to provide programs such as community leadership development, Crowdsourced Conversations, grants for neighborhood projects, outreach and support for local business owners, FutureHomes, and other revitalization projects. We also produce and distribute the Heights Observer and sponsor the Heights Music Hop Festival.
We look forward to seeing you at A Summer Night's Dream on Saturday, July 29, 2023! Thank you for your thoughtful consideration and support.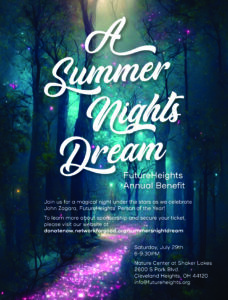 We are grateful for our supporters and encourage you to consider one of several sponsorship opportunities, without which we could not continue our essential community work.To choose a sponsorship level and donate, please visit: