2022 Neighborhood Mini-Grant Celebration
13 Community-Lead Projects – $9,700 Awarded. Let's Celebrate!
FutureHeights joyfully invites you to an evening of celebration for our 2022 Neighborhood Mini-Grant Award Recipients. Our program offers funding up twice annually (Spring and Fall) to support community-building initiatives, projects, and programs in Cleveland Heights and University Heights. Groups can apply for up to $1,000 to begin or sustain their projects.
On Wednesday, December 7th from 6pm-7:30pm on Zoom, we welcome you to hear from our 2022 recipients, learn about their projects, and feel as inspired as we do about the incredible work our community members are doing to make the Heights a unique, welcoming, and wonderful place to live.
In 2022, we received a record number of applications and were thrilled to be able to support 13 projects. Please join us in congratulating the following groups:
SPRING 2022:
Boulevard Elementary School PTA

Coventry PEACE Campus

Coventry Village SID
Friends of Cain Park
GardenWalk Cleveland Heights
Grandview Luminaries
Lake Erie Ink
Millikin Neighborhood Group
Noble Cigar Box Guitar Project
Noble Neighbors
FALL 2022
Cleveland Heights Green Team

Oxford Community Garden
Roxboro Elementary School
Learn more about our Neighborhood Mini-Grant Program here.
**Technical notes for our event: We will be using a standard Zoom Meeting format and so we have a few requests and recommendations. First, we ask that all guests mute themselves and turn their cameras off. Second, we suggest that our guests adjust their settings to "Speaker View" and/or "Hide Non-Video Participants" so they can most easily see who's speaking. More tech details available here.
We will be recording this Celebration to share on the FutureHeights YouTube page.
__________________________________________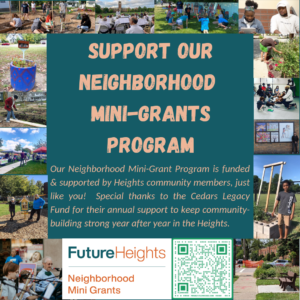 If you are interested in supporting an expansion of the Neighborhood Mini-Grant program, consider making a donation to increase our capacity to offer funding to more Heights residents ready to take on inspiring, community-building projects!
To make a donation to the Neighborhood Mini-Grant program, start by clicking here.
When you scroll to the middle of the page, you will see a section asking if your donation has a special designation — selecting "FH Neighborhood Mini-Grants" from the dropdown menu.
Donating to this program directly impacts Heights neighborhoods — we thank you for considering!