Heights Music Hop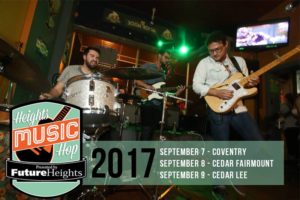 Heights Music Hop, an initiative of FutureHeights, is a multi-venue annual event using music as the vehicle to help build community for Heights residents and raise awareness of the Heights as a destination for those living outside the community.
The 5th annual Heights Music Hop took place in three Cleveland Heights business districts! The event began on Sept. 7, in Coventry Village, then hopped on over to Cedar Fairmount on Sept. 8, and wrapped up on Sept. 9 in Cedar Lee. The event was capped off by a Silent Disco in the vacant lot at Lee Road and Meadowbrook Boulevard.
Be a part of the 2018 Hop! Opportunities are available for sponsorship, musicians and bands interested in performing, as well as volunteers. For more information on the event or to get involved, send an e-mail to info@futureheights.org or visit the website at www.heightsmusichop.com.
Heights Music Hop is supported in part by the residents of Cuyahoga County through a public grant from Cuyahoga Arts & Culture.
Additional sponsors and partners include: Dominion Energy; Whole Foods Market; Heights Observer; Zagara's Marketplace; the Cedar Fairmount, Cedar Lee, and Coventry Village special improvement districts; Dewey's Pizza; Keller National; the city of Cleveland Heights; The BottleHouse Brewery; CLE Urban Winery; Digizoom Media; Cellar Door Cleveland; Grog Shop; Map Creative; Rad Graphics; Family Connections; Larchmere PorchFest; Brite Winter Festival; WJCU Radio; WRUW Radio; Vern & Ellsworth Hann; Mitchell's Fine Chocolates; Cleveland Cinemas; Green Tara Yoga; and The Sweet Fix Bakery.
Watch this video of Hop highlights to get a glimpse of this incredible community event.
View photo gallery below of 2017 Heights Music Hop. Photos by Gabe Schaffer, Steve Cutri, Rob Muller and Every Angle Photography.