Heights Music Hop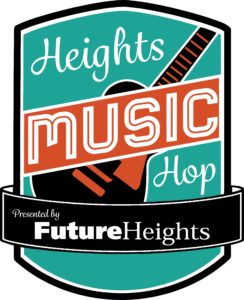 Heights Music Hop, an initiative of FutureHeights, is a multi-venue annual event using music as the vehicle to help build community for Heights residents and raise awareness of the Heights as a destination for those living outside the community.
The 8th annual Heights Music Hop took place on September 18, 2021!
Be a part of the Heights Music Hop! Opportunities are available for sponsorship, musicians and bands interested in performing, as well as volunteers. For more information on the event or to get involved, send an e-mail to info@futureheights.org or visit the website at www.heightsmusichop.com.
Heights Music Hop is supported in part by the residents of Cuyahoga County through a public grant from Cuyahoga Arts & Culture. The event is also made possible in part by state tax dollars allocated by the Ohio Legislature to the Ohio Arts Council (OAC). The OAC is a state agency that funds and supports quality arts experiences to strengthen Ohio communities culturally, educationally, and economically.
Additional sponsors and partners include: The Char and Chuck Fowler Family Foundation, Flaherty & Collins, City Architecture, Cuyahoga County Council Member Cheryl Stephens, the Cedar Lee Special Improvement District, the city of Cleveland Heights, Best Gyros, Small Organization Solutions, the Heights Observer and A440 Sound.
Watch this video of 2018 Hop highlights to get a glimpse of this incredible community event. Also check out video from the 2016 Hop.
View photo gallery below of 2021 Heights Music Hop. Photos courtesy Small Organization Solutions.