Heights Music Hop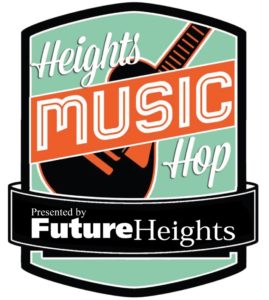 Heights Music Hop, an initiative of FutureHeights, is a multi-venue annual event using music as the vehicle to help build community for Heights residents and raise awareness of the Heights as a destination for those living outside the community.
The 6th annual Heights Music Hop will take place in three Cleveland Heights business districts! The begins on Sept. 13 in Coventry Village, then hops on over to Cedar Fairmount on Sept. 14, and wraps up on Sept. 15 in Cedar Lee.
Be a part of the 2018 Hop! Opportunities are available for sponsorship, musicians and bands interested in performing, as well as volunteers. For more information on the event or to get involved, send an e-mail to info@futureheights.org or visit the website at www.heightsmusichop.com.
Heights Music Hop is supported in part by the residents of Cuyahoga County through a public grant from Cuyahoga Arts & Culture.
Additional sponsors and partners include: Heights Arts, Heights Observer; the Cedar Fairmount, Cedar Lee, and Coventry Village special improvement districts; Keller National; The MarketFarm; and the city of Cleveland Heights.
Watch this video of Hop highlights to get a glimpse of this incredible community event.
View photo gallery below of 2017 Heights Music Hop. Photos by Gabe Schaffer, Steve Cutri, Rob Muller and Every Angle Photography.