Heights Conversations – Let's Talk about Race and Equity in our Community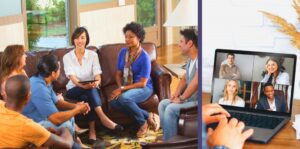 Neighbors sit down, share stories, and talk honestly to learn what divides us and what brings us together in the cities of Cleveland Heights and University Heights.
​
We invite you to participate in Heights Conversations: Let's Talk about Race.  Each small group will be facilitated by trained facilitators.
Like an increasingly polarized country, The Heights is faced with issues of race and equity, discrimination, poverty and political division. We recognize that we're seeing racial disparities throughout our community, but we also see an opportunity. The Heights is filled with amazing people, and these conversations can serve as a place to help talk with and listen to your neighbors and discuss ways to build bridges and solutions to help all people live as equal citizens in our community.
While we would prefer to sit together for these conversations, we continue to follow the guidance of public health professionals who recommend we not gather together in large groups.  For this reason we will be hosting this event on the ZOOM platform.  After you register to participate you will receive an email from info@heightscongress.org with the ZOOM information.  Please don't share this info with others, instead ask everyone to register so that we can have an accurate head count and assign everyone to a small group.
Coordinating the Heights Conversations is a group of representatives from The Heights Community Congress, FutureHeights, Reaching Heights, Heights Libraries, Cleveland Heights-University Heights City School District, and the Home Repair Resource Center. The goal of this event is to raise awareness of our communities' challenges with race, racism, and equity, and to begin generating ideas for positive change while building community.
To learn more, or sign up, visit https://heightscongress.org/heights-conversations.html.