Heights Music Hop 2018 recap
The Heights was hopping the weekend of Sept. 13-15 at the 2018 Heights Music Hop.  This spectacular celebrat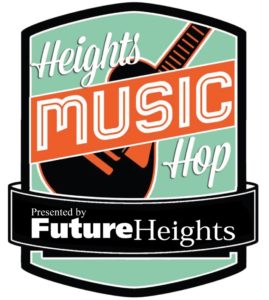 ion of music and our community took place in Coventry Village, Cedar Fairmount and Cedar Lee business districts. Featuring free performances across the three nights, the Heights Music Hop showcased live music in a variety of genres, in restaurants, bars, shops and other Heights businesses.
See video of the 2018 Heights Music Hop.
Heights Music Hop is presented by FutureHeights, in partnership with Heights Arts and the city of Cleveland Heights. It is supported in part by the residents of Cuyahoga County through a Cuyahoga Arts & Culture grant. The event is also made possible in part by state tax dollars allocated by the Ohio Legislature to the Ohio Arts Council (OAC). The OAC is a state agency that funds and supports quality arts experiences to strengthen Ohio communities culturally, educationally, and economically.
Additional sponsors and partners include MetroHealth; Dominion Energy; Zagara's Marketplace; The MarketFarm; Coventry Village, Cedar Fairmount, and Cedar Lee special improvement districts; Confluence; Keller National; Greg Bonanno, Bolt & Spool; Montlack Realty; Heights Observer; and Northeast Ohio Parent and Boomer and Beyond magazines.
We have already begun planning for the seventh annual Heights Music Hop in 2019. Share your thoughts with us in this brief online survey.
See more festival information at www.heightsmusichop.com and the Heights Music Hop's Facebook and Twitter accounts.