Augmented Reality Mural Installed at Cedar Lee Mini-Park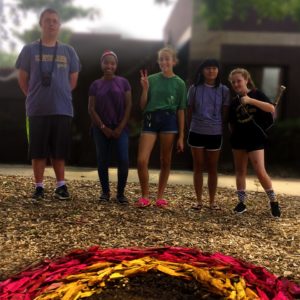 The FutureHeights Cedarbrook Society worked with artist Tom Masaveg this summer to create an interactive mural on the Cedar Lee Theatre building in the Cedar Lee Mini-Park. Masaveg installed a "frame" of tall white trees on the side of the building and worked with the students to create images of luna moths that appear to flutter around the trees when a smart phone is pointed at the frame.
This augmented reality art appears through the Snapchat app. Download Snapchat, point your phone at the frame when you are visiting the mini-park, and visit https://tinyurl.com/y3t622z9 to try it out.
Can't wait until you are at the mini-park? Visit https://tinyurl.com/yxgr59pj to see an animated luna moth now.
Learn more about the project by visiting the Cedarbrook Society's Facebook page, and visit the mini-park during Heights Music Hop on Saturday, Sept. 14, to speak with project representatives.